Back to all posts
Posted on
STEAM Academy registration opens June 16, 2022 @ 5:00pm!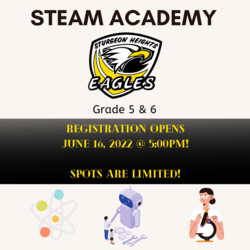 We are excited to announce the launching of the Sturgeon Heights STEAM Academy for our Grade 5 and 6 students for the 2022/2023 school year!
Registration opens on June 16, 2022 at 5:00pm! A link will be emailed to all families.
Check out the website for more information: https://www.sturgeonheights.ca/programs/steam-academy